Thank You Friends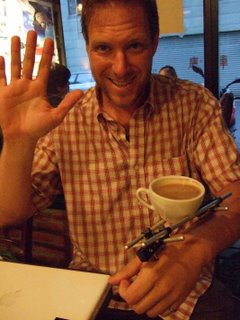 Thinking back on my hospital stay, I'm glad I'm out. Ingys and hospitals don't mix. Still I owe a lot of people a lot of thanks for being there around the clock and keeping my spirits up.
Thanks first off to Gugod. You have been a wonderful loving host for my entire stay in Taiwan. I hope I can return the favor some day...
Also these wonderful people gave their time, somtimes in the wee hours of morning: jjjenq, drbean, Crucify, coban, glasia , knight, momizi, yinjieh, plasmaball, b6s, hcchien, clkao, hlb and lukhnos! All these people helped me do things like talk to the Chinese speaking nurses, and pass me the pee jar.
Drbean actually spent a huge amount of his time and even hitchhiked from his far away home to the hospital.
Special thanks to knight and yinjieh for setting up a personal 3G wifi router in my room. That was totally hot to be on the intarweb while on morphine in an adjustable bed.
Also Ilya and June made a guest appearance for a couple hours. Most people rarely if never get to see Ilya since his wedding a year and half ago. I was blessed. They were great to talk to. June, you are a really cool lady when you aren't in a wedding proceeding! ;-) I someday hope to get to work directly with you both. We could change the world.
I also want to thank Gugod's parents. They are quiet folk but I know they care. You are special people with a great son.
Thanks to the Perl community and Socialtext people for showing your support. It's so great to be a part of both groups.
Seattle people, I miss you so much. My return date is now May 8th. We have unfinished business y'all...
To my close friends, you know who you are, thanks for your support and the phone calls. I have a lot of love in my heart for each of you.
Labels: thanks friends