The High Speed Way To Get Mo!Relaxed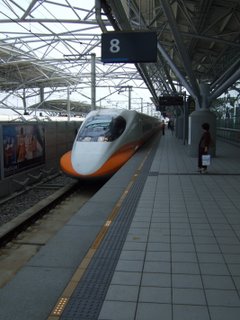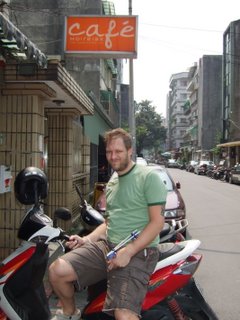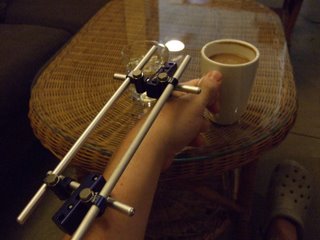 No doctors to see today. No cops or insurance people. Just a day in Taiwan to spend how I like. Lately here's what I like:
Get a good night sleep and wake up by noon. That's what I did first today. I can actually sleep pretty well. The pain level, given the right drugs is now bearable. My arm always hurts but I can kinda ignore it most of the time. The funny thing is that the metal framework part is not what hurts at all. It's mostly the support system. The shoulder, elbow and inner forearm. Ouch. @#$%!
After I woke up I jumped in the shower. Everything takes a little longer these days, and I needed to get dressed and packed by 12:30 to get a taxi to the train station. I said my morning pleasantries to Gugod and hit the road.
So about this train. It's totally new and all the rave, and it just rocks harder than, say, Pat Benetar. Destination 台北 (Taipei). In the old days (last year) this meant a 2.5 hour bus ride from 新竹(Hsinchu) but this is a
HIGH SPEED RAIL
. 35 minutes of total comfort for under $10USD. The 台北 station is also a
MRT
station, so I switch trains, 10 minutes and 4 stations later I'm at the neighborhood of my favorite 台北 cafe,
mo!relax
.
It's now 1:55. The cafe is just opening and my new friend and owner of the joint, 詩琪 (Shi Qi) is there to greet me. She even takes the time to make me my first Americano in almost a week. Today is gonna be a good one!