Good Morning Ingy
Last week I got back from a couple months in Taiwan, with a side trip to Tokyo. Nice to be back to some proper Seattle June weather... cold, wet, miserable. Ah well, we still got the most best coffee houses and I live right in the middle of the that sweet spot.
In the past I've always gone to the nearest cafe, Online Cafe, for my morning americano. While the coffee and people there are awesome... that's just criminal. Within 8 blocks of me there is Victrola, Caffe Vita, Bauhaus, Vivace, Fuel, Republik, Stumptown, Presse, and oh so many more. I love these cafes but never go to them on any regular basis. But this week two things changed...
I became (at least temporarily) a Morning Person. I thought I could avoid the jetlag coming back from Taiwan this year for sure. I did it last year, but alas, this year I got it bad. I woke up every morning at 2:30 or 3am for a whole week. Luckily Victrola opens at 5:30am so by then I was stoked to do something... like get my coffee. On the second day I figured out how to carry a coffee on my motorcycle!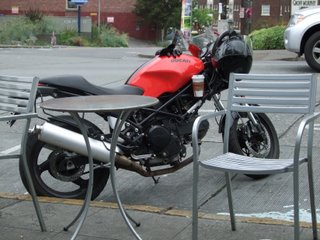 My first Ducati mod. A MotorCycleCoffeeCozy!
Now I can easily go check out a new cafe every morning for like the next 10 years!
Taiwan was a great trip. I got to hang out with old friends Gugod and TvCafe. The Kogai family treated me to 10 days of bliss in Tokyo. Larry and Gloria Wall were there as well (Perl geek nirvana). I actually sat next to the same person on both of my flights to and from Taiwan and get this... he lives 2 blocks from me in Seattle and his name is Jimi Hendrix! We're going to hang out this weekend. Lyssa from LA came out to spend the last two weeks of Taiwan and Tokyo with me. She really knows Tokyo and I know my way around Taiwan, so it was a perfect match.
Good to be back in Seattle and America for a while. Obama FTW!