Alter Ego And Edamame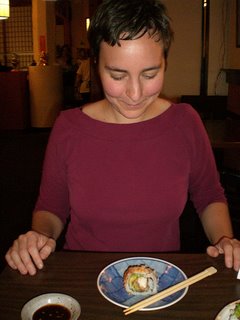 I had dinner with
Ingy
!
Last night I got together and dined with my local alter ego, Ingy Pants. We ate at Seattle's best sushi restaurant,
Maneki
.
We babeled a bit about French and Chinese language, various arm surgeries, and the 4 "P" languages (Perl, Python, PHP and Ruby). We feasted on some fabulous Japanese food including the ever succulent Black Cod Collar Miso.
I met Ingy a couple years ago googling
ingy seattle
. She was number one, so I had to meet her. Today the spot seems taken by some dude named Brian Ingerson (maybe I'll meet him too some day).
Good to see you again Ingy. There's definitely room for two of us in this town.