Tonight I'm Gonna Party Like It's 199.9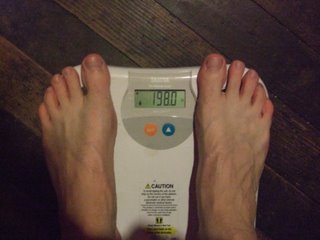 It seems I haven't blogged since June 30th. Another thing I haven't done since June is drink alcohol. At the end of June I decided to go on the wagon for the Summer. Not for any particular reason. I just felt like it.
It was surprisingly easy, and not at all what I expected. I still did all the things I normally do, just stone sober. Interestingly I still got a hangover now and then! :)
In August I started wondering when I should have a drink again. Some old drinking friends of mine came through town, but still I resisted. One day I came up with a brilliant idea.
I've been running a lot this summer. I started running with the
Seattle Frontrunners
running club which meets very close to my house. I've also been losing a little weight. So I thought, I'll drink again whenever the scale reads under 200 lbs. (I started the Summer around 220 lbs.) But the brilliant part is that I decided, not only that...
after
I drink I'll have to weigh in under 200 again in order to drink again.
I like to drink good bourbon, wine and beer. I also like to weigh under 200 lbs, but in the last 10 years I've only been there a handful of days. Now I can use one to encourage the other! Brilliant, if I do say so myself!
Today I finally reached my goal for the first time. I woke up weighing 205. In a heavy workout I can lose around 7 lbs. I ate breakfast and lunch and some water. Around 5pm, after work, I decided to go for it. When I left the house I weighed 207. When I got back from a quick 40 mile bike ride I weighed 200.5. I decided to go on a short 2-3 mile run. This actually got me down to 197.5.
Bottom's up!