FrontRunners Seven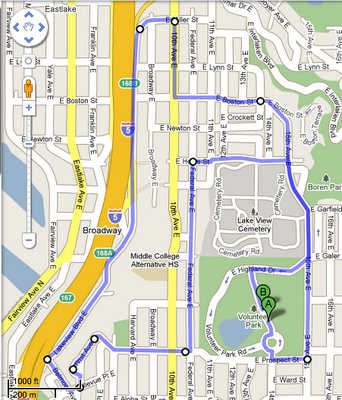 Last summer I started running with the
Seattle FrontRunners
. They run every Wednesday at 6:30pm, rain or shine, starting (and finishing) at Volunteer Park, on Capitol Hill in Seattle. Conveniently, this park is just a couple blocks from my home.
Every week, anywhere from 15 to 75 lads (and a few lasses) run about 4 miles. They have
seven preplanned courses
that they alternate betwixt.
This week I decided to run all seven! (I also decided to map them using Google maps.) On Sunday I ran four in a row:
Riley's Revenge
,
Interlaken
,
16 Going on 17
, and
Flat Four
. Wednesday night I joined the FrontRunners in doing
22nd Avenue
. Tonight (Thursday) I finished off the set with
Lakeview
followed by
Box in a Box
.
I've done all these courses with the group over the last year, but it's nice to run them by yourself too so you can take the time to really know them.
I enjoyed the discipline of Google mapping them too, although the mapping software had issues with
16 Going on 17
. (It doesn't let you walk through the corners of 16th and Prospect or 17th and Republican.) The nice thing about the maps is you can modify them yourself. Give it a try.