Fling, Me, A Passport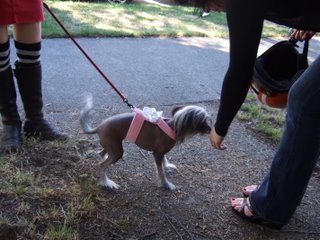 The craziest thing just happened to me! It makes me believe in life a little bit more.
A delightful man named Fling, whom I've never met before just walked up to me whilst I was working at Online Cafe. Yes, Fling. Yes, Online Cafe. None of this is made up. (I'm just not that creative!)
Fling asked me "Is your name Ingy"... Yes... I found your passport on the street... (jaw drops)... wait here and I'll run home and get it for you.
So two nights ago I got back from visiting my coworkers in Vancouver. I guess in the process of unpacking my car, the passport fell out. I had actually noticed it right away, and figured it was safe inside the car somewhere. Today when I got to the cafe, it crossed my mind to go get it from the car. Luckily I put it off and stayed in the cafe so Fling could find me, instead of going into a major freakout that would have ensued, since I need that passport to get back to Vancouver tomorrow.
Wow!
Fling rocks. Life is beautiful.
Speaking of life, I attended the funeral reception for the passing on of my good friend Meghan's
father, yesterday. The Tesh-s are a great family, and we all had a good time enjoying the comfort of friendships, and toasting to the life of Don Tesh. I only met him once, but he had an important effect on my life... He was the retired doctor who referred me to my most excellent wrist surgeon in April.
Rest in peace, Don.