One Less Fixie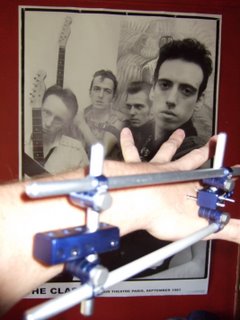 So I talked to the doc yesterday. Last week he told me the "external fixator" would need to be on 8 weeks total, or about 3 more weeks. But then yesterday he talked me into doing a wrist surgery next week. Since I agreed, he now wants to take the bionics off the arm ASAP.
Funny... I completely agree with him!
Today at 4pm I become a relatively normal looking dude again. No more wrist piercing jewelry.
So for the surgery, I think he's going to break off the end of my radius into a few pieces and do his best to make it more like it should be. Then he'll hold it all steady with internal screwed in plates. What could possibly go wrong?!