Sunday Hanging from OP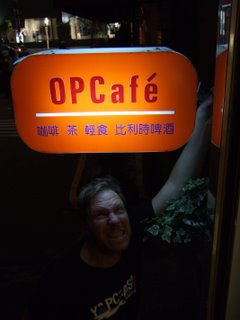 Today I finally ate Teppanyaki again. Gugod and I went to our usual place. I guess it's called 肥仔龍, which means "Fat Dragon". It was crowded as usual. The crowd sitting on the outside of a huge horseshoe shaped grill with two chefs in the middle cooking their butts off. I got the beef and seafood set meal. Basically food keeps getting dumped on your plate, and eventually you are full. Love it.
Today I bought a half dozen really fun Taiwan scooter helmets. Cost maybe $35usd. Gonna buy few more and make an art exhibit at
Liberty Bar
sometime soon.
Now I'm hanging at Gugod's
OPCafé
. With my bad arm even!
Mostly this evening I'll be working on YAML2. I have to admit I'm over my head on this project so far. Despite being the creator of Perl's
Inline.pm
, I really don't know C or XS. Not anymore at least. I'm in total nööb möde. Hopefully I will upload the first version of YAML2 to
CPAN
tonight.